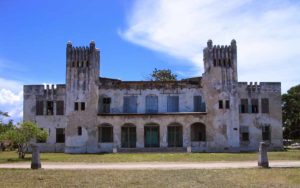 In the first half of the 19th century, Bagamoyo became a trading port for ivory and the slave trade, with traders coming from the African interior, from places as far as Morogoro, Lake Tanganyika and Usambara on their way to Zanzibar.
This explains the meaning of the word Bagamoyo ("Bwaga-Moyo") which means "Lay down your Heart" in Swahili.
It is disputed whether this refers to the slave trade which passed through the town (i.e. "give up all hope") or to the porters who rested in Bagamoyo after carrying 35 lb cargos on their shoulders from the Great Lakes region (i.e. "take the load off and rest").
 Since there is little evidence to support that Bagamoyo was a major slave port (Kilwa, much further south, has earned this status), and that tens of thousands of porters arrived at Bagamoyo annually in the latter half of the 19th century, it is more likely that the name of the town derives from the latter interpretation.
Bagamoyo's history has been influenced by Indian and Arab traders, by the German colonial government and by Christian missionaries. About 5 km south of Bagamoyo, the Kaole Ruins with remnants of two mosques and a couple of tombs can be dated back to the 13th century, showing the importance of Islam in those early Bagamoyo times.
Today the town has about 311,740 inhabitants and is the capital of the District of Bagamoyo, recently being considered as a world heritage site
Activities:
Visit the Kaole Ruins, the Roman Catholic historical museum and the chapel which housed Dr Livingstone's body before it was shipped to Westminster Abbey in London. There is also a palm fringed sand beach with international hotel resorts
Lunch will be provided at the Paradise Beach Resort or Millennium Sea Breeze Resort. You will have the afternoon to enjoy the hotel facilities, the beach and the ocean. We depart at 1600 hrs to return back to Dar es Salaam/stay overnight
Can be extended from the wildlife tour Ruaha,Mikumi,Udzungwa even far as northern circuit for your breeze holiday.